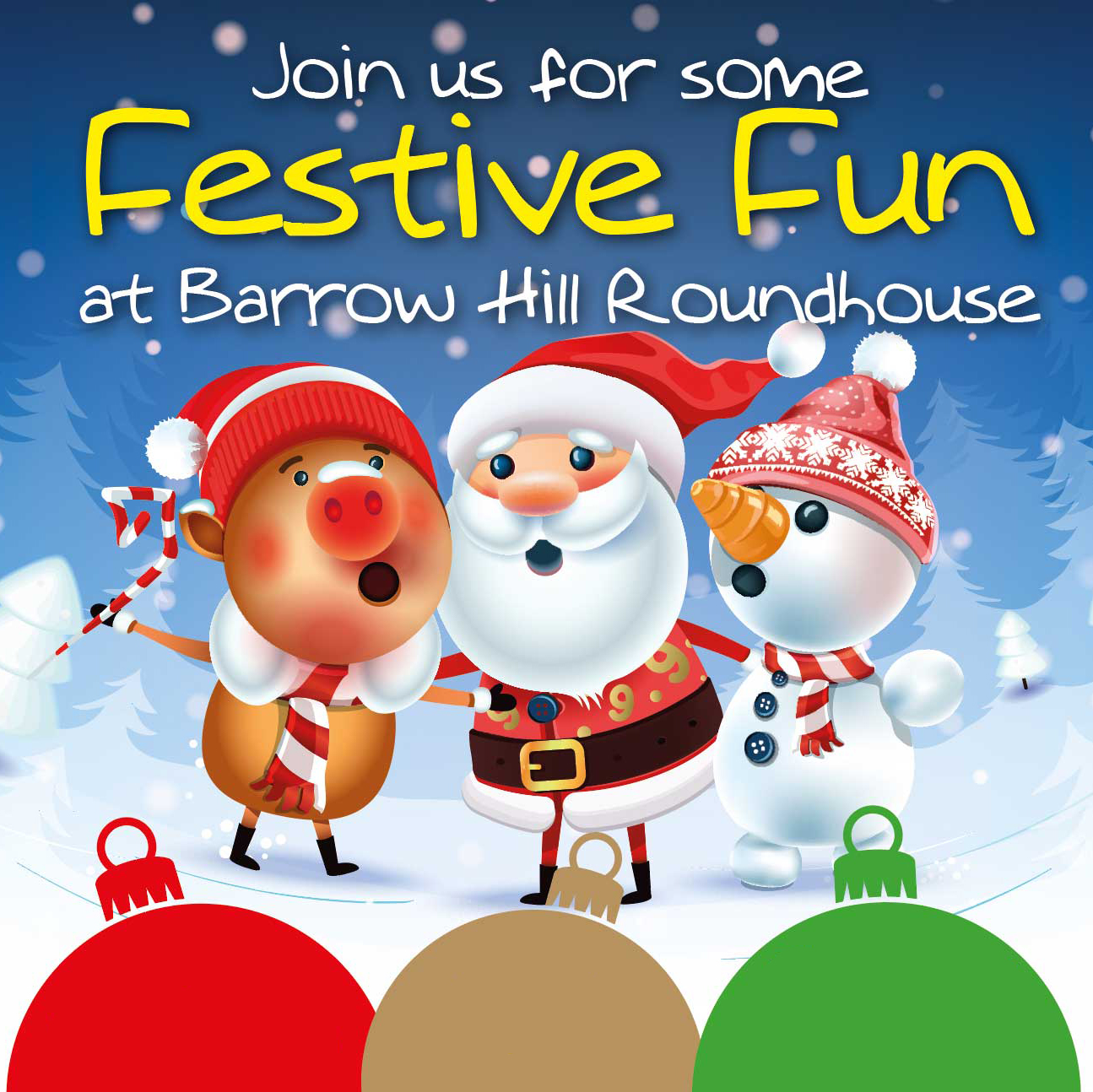 Christmas at Barrow Hill Roundhouse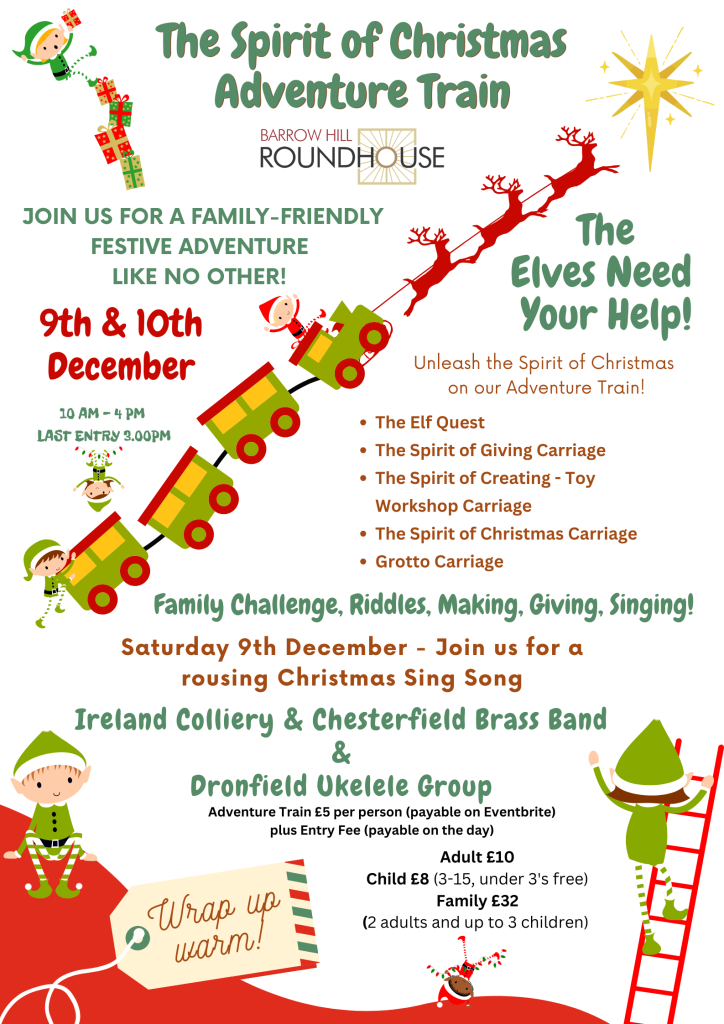 Join us for a family-friendly festive celebration like no other!
Saturday 9th & Sunday 10th December 2023
10.00am to 4.00pm (last entry at 3.00pm)
Take part in the Spirit of Christmas Adventure*
*Additional charges apply
Sing along with the Chesterfield & Ireland Colliery Brass Band &
Dronfield Baptist Church Ukelele Group
Take a train ride and explore the Roundhouse
*********
The Spirit of Christmas Adventure
While the elves were on their way to the North Pole to deliver toys to Father Christmas, their train has had to make an unexpected stop for repairs at Barrow Hill Roundhouse. The train runs on the magic of Christmas Spirit and we're looking for willing elves to help complete a series of tasks that will raise Christmas Cheer and help the elves on their way.
The Elf Quest
Every elf needs to complete a special mission set by Father Christmas. This is a tradition that dates back many thousands of years and has been designed to test problem-solving skills, teamwork and levels of Christmas Spirit. The Quest takes place in a small cabin, and you will need to work together to solve a series of riddles to graduate to the next carriage.
The Spirit of Giving Carriage
This is where the Spirit of Christmas starts to build. Here you will craft your own elf mask, complete with ears and glasses. Then you will prepare magic reindeer food for Christmas Eve. Finally, you will fashion recycled gift wrap and bows using magazines and newspapers before wrapping up a gift to share with others.
The Spirit of Creating Carriage
The elves need your help to complete a few toys. You will set about making a special gift for someone in your party and then make a special gift to take home with you.
The Spirit of Christmas Carriage
We will super charge Christmas spirit with Christmas songs for all to hear.
Grotto Carriage
Head into the Grotto Carriage to deliver your wrapped up gift and pick up a little gift to take home with you for the big day, with a chance to take a festive photo for the family album.
The Spirit of Christmas Adventure takes place at 10.30am and 1.30pm on 9th and 10th December and lasts approximately 75 minutes. It is a fun and interactive experience filled with imagination and creativity, designed for families and suitable for age 3 to 103! Everyone taking part will receive a gift at the end of the Adventure.
Places are limited so please book your seats early to avoid disappointment at https://bit.ly/3N3Lyp6. Please book a seat for each member of your party. Due to capacity constraints, we cannot offer seats to children under 3 but they are also welcome and can sit on your knee during the Adventure.
*********
Christmas Music
Join the Chesterfield & Ireland Colliery Brass band for a rousing festive performance in our atmospheric Roundhouse from 12.00noon to 1.00pm on Saturday 9th December.
Enjoy a fun and festive sing along by the fire with the Dronfield Baptist Church Ukelele Group from 10.00am to 10.30am and again from 2.45pm to 3.15pm on Saturday 9th December.
*********
Train Rides and Roundhouse Exploration
Take a train ride from Roundhouse Halt through the yard and up the Springwell branch – throughout the day and as many times as you like. Explore our exhibitions and interactive displays, discover the majestic steam and diesel engines in the Roundhouse, watch the turntable and signal box demonstrations, warm up by the fire, grab some refreshments and a hot drink in our Café and check out the Roundhouse Shop.
Please note: like the North Pole, the Roundhouse and the Spirit of Christmas Adventure Train are very cold so make sure you wrap up warm for your visit!
*********
Ticket Prices
Museum Entry, Christmas Music and Train Rides (payable on the day)
Adult – £10
Child (age 3-15, under 3s free) – £8
Family (2 adults and up to 3 children) £32
Seat on Christmas Adventure* (payable on Eventbrite) – £5 pp
*This is an add-on ticket; entry tickets will also be required and should be bought on the day.