Our Learning Team can offer a variety of facilitated sessions suitable for your group from Foundation Stage to Key Stage 4.
Our site provides opportunities for children to learn in a real-life context outside the classroom including the option to visit the nearby Chesterfield Canal if you wish. We also have several resources for teacher-led visits and can advise you in any specific needs you may have for your children.
We have ensured that all resources and facilitated sessions link to the National Curriculum, including links to STEM (Science, Technology, Engineering and Maths). Please see our Curriculum Links documents for each key stage within the appropriate section.
---
Foundation Stage
Facilitated Sessions
The Story of the Roundhouse
Can you find out the story of the Roundhouse?
Don your hard hats and take a step back in time with our story sack and explore the Roundhouse.
Complete your quest on our Learning Coach where you will join in some railway songs and games, followed by a hands-on craft.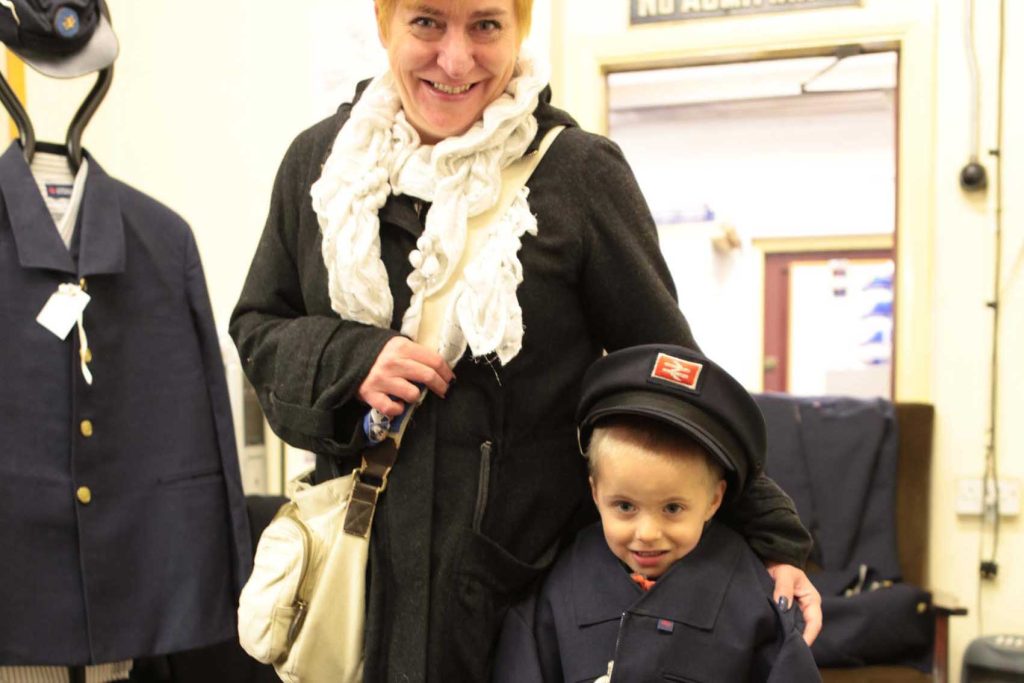 ---
Key Stages 1 & 2
At the Roundhouse, we take a flexible approach to our Learning Programme. This means you can mix and match the elements described below and create you're ideal visit.
Please contact us to discuss your topics and design your visit to ensure students get the most from their experience with us!
Just the Job
Be welcomed to the Roundhouse and discuss what kind of people they think worked here. They will learn when the Roundhouse was built and what it was used for.
Watch a video and discuss what jobs were important during the steam era. Explore the different objects used by people at the Roundhouse and discuss how they are similar or different to objects today.
Use photographs of people working at the Roundhouse or other engine sheds, to analyse what these tell us.
Be taken on a journey around the engine shed, exploring the different jobs. Get on a loco footplate. Have a go at shovelling coal.
Children will compare how they think jobs on steam and diesel engines differed and what it might have been like to work at the Roundhouse
---
People of the Industrial Revolution
Be welcomed to the Roundhouse and discuss the major figures of the Industrial Revolution and the impact they had on our local area, nationally and across the globe.
Learn about Stephenson and his Rocket and Richard Barrow and the creation of Barrow Hill.
Meet the people who led the way with the railways and ironworks in the industrial revolution and have a go at developing your own railway system with our construction kits.
Discover our STEM exhibition and learn about the amazing technology developed to make transport easier.
End your session with lunch on the Learning Coach.
---
Full Steam Ahead!
Be welcomed to the Roundhouse and discuss what they think the site was used for.
Learn the difference between steam an diesel engines. Watch a video of a steam engine and talk about what is happening in order to make it work.
Use model steam engines to observe the energy transfers happening as a steam engine heats up and eventually moves.
Complete a collage to reinforce their learning.
Be taken on a journey around the engine shed, explore a steam engine to see the different parts and how they work.
Understand how different jobs contributed to make steam engines work. Have a go at shovelling coal.
---
Village Life
Be welcomed to the Roundhouse and discuss why they think the site was built.
Study a set of census records and identify different individuals in these. Use photographs to build a picture of the individuals' lives.
Study a handling collection and discuss what these tell us about the people who lived and worked in the village.
Dress up and find out what they might have done as residents of Barrow Hill.
---
Tell Me A Story
Be taken on a tour around the Roundhouse and discover the different characters who worked here.
Climb aboard our learning coach and listen to some railway themed stories.
Play with our wooden railway tracks and make their own railway picture.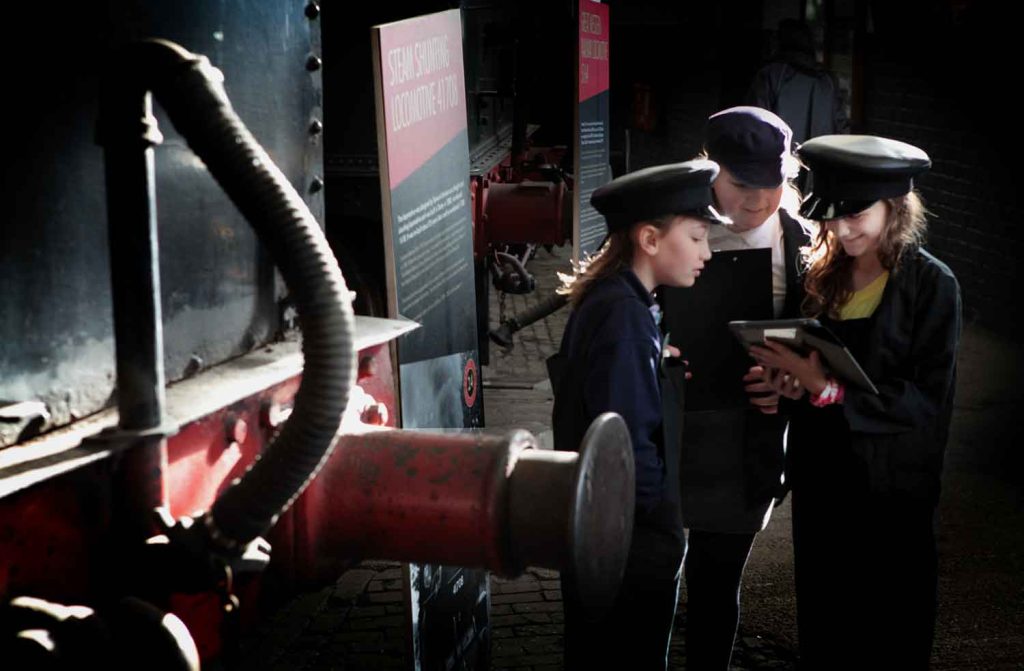 ---
KS3+ & Higher Education
Facilitated Sessions
STEM Learning
If you would like to use the site as a base for scientific enquiry, we would be happy to facilitate this and provide you with relevant activities. Please get in touch for more information.
---
History
Come to the Roundhouse for a day of study including a tour and interactive workshop, followed by a depth study linked to one of the British areas of history. We will provide you with both primary and secondary sources relating to the site.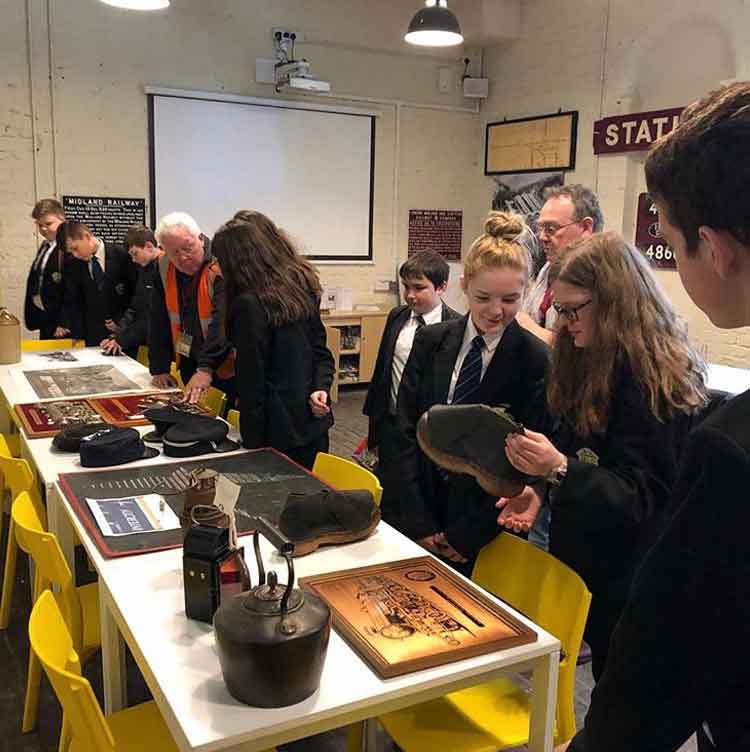 ---
Important Information for your Visit
Preparing for Your Visit
We want you to enjoy your trip to Barrow Hill Roundhouse. It is always worth thinking about how the trip will fit into your teaching.
As a preliminary, so pupils get more from their visit, it would be useful to consider the following:
When was the Victorian age? It may be useful to build a timeline so they know what came before and after this.
What do they know about locomotives?
Have any of them ever been on a train?
You can also look in the Facilitated Sessions section of this website to download extra activities to do with your class.
---
To help your visit run as smoothly as possible, please read the following information
In order to make the most of your visit, please arrive on time and with the children split up into groups agreed with our Learning Team.
Please ensure your pupils wear appropriate clothing. The Roundhouse is cold in summer and freezing in winter. The floor is particularly cold so children should wear sensible shoes and thick socks.
We can provide children with overalls as part of their visit as there are objects in the Roundhouse which are dirty and greasy (this adds to the atmosphere!) but please ensure children do not wear their 'best' clothes.
A member of the Learning Team will meet you on arrival.
We will sign you in and arrange payment on arrival.
Visiting school groups will be welcomed in our Learning Room.
---
Facilities
Coats will be hung up and bags can be stored securely upon arrival.
Children can either eat their lunches on the Learning Coach or in the Learning Room. We also have a picnic area available in the summer months. We will provide bin bags and we would appreciate it if you and your pupils would tidy up after your lunch break.
We have a shop which sells a range of railway themed items. We can open the shop for your group at the end of your day, so pupils can bring pocket money with them on the day.
There are several toilets throughout the site (please see the map provided for more details).
---
Health & Safety
The site is still a working Roundhouse and railway site. It is completely safe if all risks are understood and taken into account. As such, we ask you to monitor your pupils appropriately and listen to staff instructions on where you can access. We will provide a health and safety talk at the beginning of your session but please ensure your pupils stay within the designated areas (as shown on the site map which you will be given on arrival).
There are also lots of uneven surfaces on site so please ensure children do not run and that they wear sensible footwear.
Download our Risk Assessment below.
We recommend that teachers arrange to visit the site before their school trip in order to produce their own risk assessment. Please contact us to arrange this, free of charge.
---
Directions and Parking
We have a spacious car park suitable for coaches and minibuses situated right next to the Roundhouse entrance.
Parking is FREE.
Please use the public entrance on the left hand side of Campbell Drive approximately 100m from the junction with Station Road. Please do not use the commercial entrance to the site.
Barrow Hill Roundhouse is located on Campbell Drive (S43 2PR) in Barrow Hill. We are approximately one mile from Staveley and 3 miles from Chesterfield. Click here for more information on how to find us and a Google map.
---
If you have any questions about your trip, please do not hesitate to contact our Learning Team at:
---
Booking your visit . . .
To book any of our sessions, or to find out more about your visit to us, please contact the Learning Team at:
---
Pricing . . .
All school visits:
£6.00 per child
Accompanying adults go free:
Early Years: 1 adult free per 4 children
Years 1-3: 1 adult free per 6 children
Year 4 onwards: 1 adult free per 10 children
---
Learning Brochure
Download our Learning Brochure here
---
Risk Assessment
Download our risk assessment here